SkinniFuse
IV Treatment for Weight Loss
LOSE WEIGHT – SHRED FAT
Increase your metabolism and get rid of fat with SkinniFuse our fat reducing infusion mixture.
Get rid of those stubborn pounds, fat too and get ready for newer, healthier lifestyle. Our SkinniFuse will help you lose weight and to get rid of those last 5 pounds. Stubborn pounds – gone!
We have named our blend SkinniFuse and here is what it is – Lipotropics: Methionine, Inositol and Choline (MIC) with B12 added for extra energy. You will burn your fat, increase energy and witness healthy weight loss.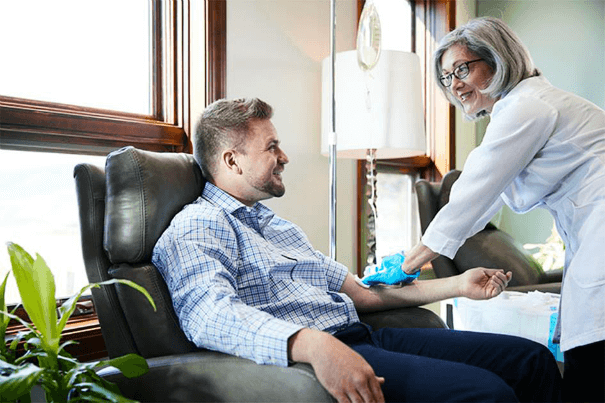 Your metabolism will be stimulated and those unwanted pounds will no longer get in the way of your favorite jeans, two-piece swimsuit, shorts, or your favorite summer dress. SkinniFuse helps break down toxins, purges fat, all while increasing energy and stamina. You will look and feel great.
We administer our formula by direct infusion of our fat burning and energy-inducing compounds straight into the bloodstream. The goal is eliminating body fat through our blend of vitamins and nutrients. We create healthy cells with our combination of Vitamin B-12, and our fat burner combination of Methionine, Inositol and Choline (MIC). This infusion helps in boosting energy, helps maintain a healthy liver by preventing fat buildup, relieving fatigue, managing stress, and boosting physical performance.
We all need a boost to push us towards workouts and healthy eating. Our SkinniFuse will complement your exercise routine and healthy eating habits. You will cross that finish line healthier and more energized.
WHEN TO INFUSE / BEST FOR:
Assistance in weight loss goals, suppressing appetite, energy boost, assistance in mood regulation, reduction in body fat, increased metabolic activity.
Fat burner and blaster
Energy booster
Cleans out and lowers fat reserves in liver
Replenishment of essential nutrients
Helps regulate blood glucose levels
Detoxes harmful by-products of fat accumulation
Assists in weight loss
BIOTIN
CHOLINE
FOLIC ACID
INOSITOL
METHIONINE
NIACINAMIDE
VITAMIN A
VITAMIN B1
VITAMIN B2
VITAMIN B5
VITAMIN B6
VITAMIN B12
VITAMIN C
VITAMIN D3
VITAMIN E
VITAMIN K
WellFusion
Immunity & Wellness IV Treatment
PERFECT BALANCE
Revive, Recharge and Revitalize. Achieve Homeostasis and Equilibrium for internal body balance with WellFusion.
Do you feel tired and lethargic wishing you had more energy and wishing you were in a better mood? Sometimes we feel off balance because we do not have the nutrients we need to feel better, to feel energized, to feel like we can conquer the day and all the tasks we have to do. Stress eats away out our nutrient base and it's important to restore our vitamin levels to achieve an overall sense of wellness. Our wellness infusion will rehydrate you and help you enhance your performance, boost your immune system, and overall sense of feeling good. Whether it's recovering from sleepless nights, jet-lag, or even hangovers, WellFusion will help get you back on track. Give your body what it needs to make you feel great again and to make you feel like the best version of you that you can be.
Wellfusion IV has powerful antioxidants, vitamins and minerals that will give you an optimal boost in health and wellness. Feeling tired and fatigued, feeling stressed out and overwhelmed by either home or work life can really take a toll on all of us. Sometimes we just need to give our bodies a boost in a safe and natural and quick way. In a short amount of time, you can maximize your defenses against day-to-day life and lower your risk of getting sick. WellFusion is designed with a perfect blend of what we need to feel and be our best.
WHEN TO INFUSE:
Helps to fight tiredness, fatigue, low energy levels, and dehydration. Overall feeling of well-being can be achieved by administering this infusion. Ideal for cold, flu and allergy season to get the immune system ready for season. Also helps with moderate headaches due to dehydration.
Optimal Hydration
Immune Booster
Energy Increase
Essential Vitamin, Antioxidant and Mineral
Restoration
Stress Reducer
Increases Performance
Allergy Cold & Flu Season
Tiredness and Fatigue
Jet Lag
Hangover
Mental clarity and focus
Feeling of overall well-being
Immune system recovery
Maintenance of optimal Health and Energy
BIOTIN
FOLIC ACID
NIACINAMIDE
VITAMIN A
VITAMIN B1
VITAMIN B2
VITAMIN A
VITAMIN B1
VITAMIN B2
VITAMIN B5
VITAMIN B6
VITAMIN B12
VITAMIN C
VITAMIN D3
VITAMIN E
VITAMIN K
RejuviFuse
Anti-Aging IV Treatment
FOUNTAIN OF YOUTH
Turn back the Hands of Time & Feel Young Again with RejuviFuse
Experience our fountain of youth super antioxidant blend to be a better, stronger, more energetic, youthful version of you. This Anti-Aging mixture is packed with antioxidants which helps detoxify the body of age-accelerating compounds. Essential vitamins and nutrients will help you get back your youthful glow. The super hydration will help reduce fine lines and wrinkles, assists in elasticity and assists in collagen production.
With our unique formula of Vitamin C, Biotin, and Glutathione, you will no longer need cosmetic coverups, wear less makeup and strut your natural glow. Our Antioxidants will cleanse your body from impurities and with your balanced wellness you will look and feel younger.
Feeling rested, re-energized and ready, our nutrient fusion will help you fight fatigue and the visible signs of aging. Infusing these anti-aging compounds will provide 100% absorption and no vitamins will be lost. Using conventional methods, such as moisturizers, lotions and creams will not work from the inside out as well as our anti-aging mixture can.
WHEN TO INFUSE/BEST FOR:
If you want your youthful plump and glow again, this infusion is for you. Improve your appearance, complexion, and skin tone. Fill out those fine lines and wrinkles with ultimate hydration, clear out your skin, and help increase the production of collagen to help with elasticity. Our RejuviFuse formula will help you look fresh and young.
Restores Youthful Glow
Rejuvenate and Rehydrate
Prevents & Reverses The Effects Of Aging
Free Radical Detoxifier
Brighten your Skin Tone
Also used for Hair, Skin, and Nails
Prevents and Reverses Cell Damage
Cell Reparation and Production
ACETYL-L-CARNITINE, Naturally occurring
BIOTIN
FOLIC ACID
GLUTATHIONE
NIACINAMIDE
VITAMIN A
VITAMIN B1
VITAMIN B2
VITAMIN B5
VITAMIN B6
VITAMIN B12
VITAMIN C
VITAMIN D3
VITAMIN E
VITAMIN K
PerformaFuse
Athletic Performance & Recovery IV Treatment
POWER YOUR PERFORMANCE
Reach Your Full Physical Potential with PerformaFuse
Rebuild, Restore and Create Muscle! This Amino Acid Complex Mixture directly targets muscle cells with maximum speed and efficiency increasing muscle cell growth and cell production. PerformaFuse includes essential amino acids in their purest form, along with fast acting carbohydrates to replenish depleted glycogen levels after intense training or workouts.
Workouts can drain the body of hydration, salts and electrolytes. PerfmormaFuse can replace the water and vitamin loss and with our supercharged mix of fluids, vitamins and minerals and amino acids. It's formulated to help you get stronger, increase physical performance, and combat and reduce fatigue. Electrolytes, carbohydrates and antioxidants will help in shortening much-needed recovery time as well as clearing out accumulated toxins which contribute to soreness which are stored in the muscles after intense workouts.
PerformaFuse IV contains the popularly known muscle building compounds L-Leucine, L-Isoleucine & L-Valine which are found in many sugar loaded protein shakes. Cut out the high sugar intake and get straight to the muscle building compounds that will assist in not only muscle building and development but muscle healing as well.
WHEN TO INFUSE:
PerformaFuse is great for athletes and non-athletes, as long as you're hitting the gym, especially doing heavy weights, then this drip is for you. Consider this IV best for those who feel frequent muscle soreness from intense physical activity to increased physical performance and activity and assist in reaching peak strength.
Strength Building
Endurance Enhancer
Energy Boosting
Electrolyte Restorer
Hydration restoration
Muscle Recoup
Soreness Recovery
Muscle Tissue Repair
Super Hydration
Replenishes Essential and non-essential vitamins & Minerals
Muscle Growth Assists in Fat Reduction
Extended Muscular Fuel
ALANINE
ARGININE
ASPARAGINE
BIOTIN
FOLIC ACID
GLUTAMINE
GLYCINE
HISTIDINE
ISOLEUCINE
LEUCINE
LYSINE
METHIONINE
NIACINAMIDE
PHENYLALANINE
PROLINE
SERINE
THRONINE
TRYPTOPHAN
TYROSINE
VALINE
VITAMIN A
VITAMIN B1
VITAMIN B2
VITAMIN B5
VITAMIN B6
VITAMIN B12
VITAMIN C
VITAMIN D3
VITAMIN E
VITAMIN K
IntiFuse
Libido Enhancing IV Treatment
GET CLOSER
Use a more natural approach to Increase your Drive & Stamina with IntiFuse
Intensify and amplify close and personal encounters. Rediscover your interest in sex and recover your abilities for the more intimate moments in life. Our IntiFuse IV is our sexual performance libido enhancer that works for both men and women. This infusion will improve your blood flow, energy, and help with endurance and boost the drive and appetite of your love life.
Why settle for a less than amazing sex life? Enhance your romance. Our IntiFuse IV helps increase libido, reignite the passion, and helps spark your interest in sex again. Both you and your partner will benefit with a closer, more intimate relationship.
The necessary vitamins will assist with replacing low energy levels and help with decreased blood flow associated with low libido. If the stress of day-to-day life has tampered with your focus, appetite, drive, energy, and passion, then our InitiFuse treatment to help you get back on track.
IntiFuse mixture includes Taurine and Arginine to relax blood vessels and increase blood flow for both men and women. The benefits of this vitamin cocktail result in a transformation of your energy for a more intimate experience. This drip is ideal for those who want to get intimate in a more safe and natural way.
WHEN TO INFUSE/BEST FOR:
Increase and boost energy, drive and stamina, improving low desire, recapturing youthful vitality, and boost confidence.
Improves quality of sex life
Improves relationship and intimacy
Increases Sexual Energy
Boosts Confidence
Naturally increases drive
ARGININE
BIOTIN
CALCIUM CHLORIDE
CALCIUM
FOLIC ACID
GLUTAMINE
L-CARNITINE
L-GLUTAMINE
MAGNESIUM SULFATE
MAGNESIUM
NIACINAMIDE
TAURINE
VITAMIN A
VITAMIN B1
VITAMIN B12
VITAMIN B2
VITAMIN B5
VITAMIN B6
VITAMIN C
VITAMIN D3
VITAMIN E
VITAMIN K
ZINC CHLORIDE
Scheduling an appointment
We at Biofit can fulfill your IV infusion needs. Simply contact us via phone or email so you can also schedule an appointment for a consultation, in-person patient evaluation, follow-up visits, or re-evaluation.